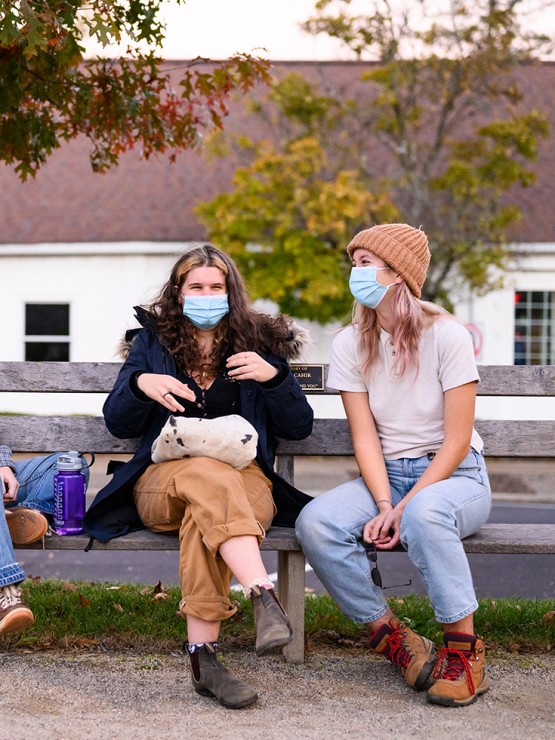 Kenyon
Hope is something that drives us forward. Without hope, there's no reason to innovate — to work on something now that will bear fruit for years, decades or centuries.
Lincoln Bleveans '89, global energy and sustainability executive
Tell stories about the world.
We're all on a quest to understand more about life — and so we write, putting words and data to our ideas.

We read "Beowulf" and "Beloved," study the structure of the ecosystem and the universe, debate questions of justice and raise our voices in assent.
Choose from more than 50 majors, minors and concentrations.

"One of the big questions we ask in public health is not 'How do l treat one person?' but 'How do I treat millions of people and ensure these things won't happen again?' "

100% of young alumni noted their ability to write well as the skill that most benefited their careers.

Kenyon ranks 8th in the country (ahead of every Ivy) for the proportion of STEM grads to earn a doctorate in the field.
We build on our insights with internships and independent research.
We build on our insights with internships and independent research.
An anonymous donor will fund construction of three new residence halls, allowing Kenyon to increase focus on growing the endowment for scholarships.

Nearly 18,000 in the Kenyon community joined to support scholarships, professorships, annual giving and more to enhance today's student experience.

Kenyon welcomes seven new tenure-track faculty who will begin teaching in Gambier this fall.
Under the guidance of faculty mentors, we research issues that hold potential to change the world.