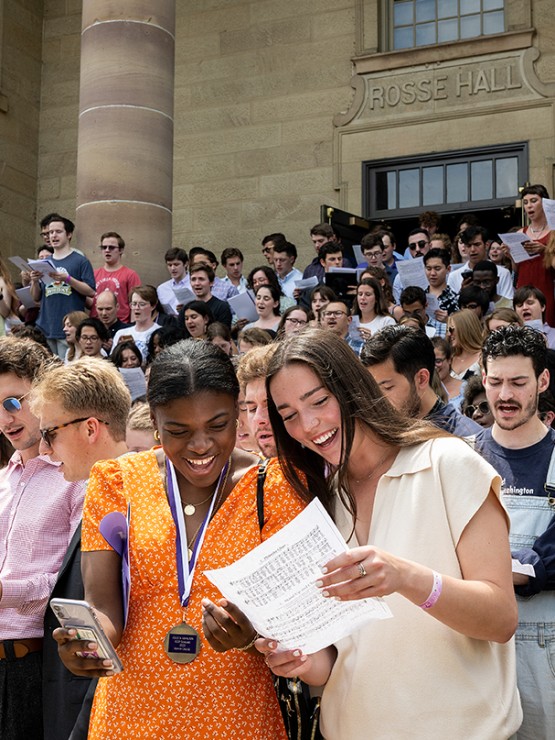 Kenyon
"So much of gathering before going our separate ways is about capturing what is best about an experience and figuring out how much of its essence you can carry with you."
Groundbreaking television producer Samie Kim Falvey '96 on the "emotionally fortifying" rites of Commencement.
Tell stories about the world.
We're all on a quest to understand more about life — and so we write, putting words and data to our ideas.

We read "Beowulf" and "Beloved," study the structure of the ecosystem and the universe, debate questions of justice and raise our voices in assent.
Choose from more than 50 majors, minors and concentrations.

"One of the big questions we ask in public health is not 'How do l treat one person?' but 'How do I treat millions of people and ensure these things won't happen again?' "

100% of young alumni noted their ability to write well as the skill that most benefited their careers.

Kenyon ranks 8th in the country (ahead of every Ivy) for the proportion of STEM grads to earn a doctorate in the field.
Let the Festivities Commence! The Class of 2022 Graduates
Let the Festivities Commence! The Class of 2022 Graduates
An anonymous donor will fund construction of three new residence halls, allowing Kenyon to increase focus on growing the endowment for scholarships.

Kenyon welcomes seven new tenure-track faculty who will begin teaching in Gambier this fall.
We engage a wide range of viewpoints to develop compassionate thinkers.
Reflections from a Gund Gallery Associate