Kenyon's location at a cultural crossroads—a blue dot in a red county in a purple state—compels us to engage with our community and the world in order to shape perspectives and influence fundamental change.


Sparking Conversation
The Center for the Study of American Democracy brings together the Kenyon community to debate the issues of today—no matter how controversial—through nonpartisan and civil discourse. The center also supports internships in Washington, D.C., and makes teaching and research opportunities possible for students and faculty.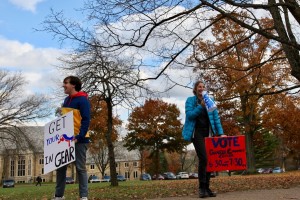 After defeats in both the 2016 and 2018 elections, Knox County Democrats sought answers to why their candidates were voted down. Justin Sun '20 investigated the polarization and divisiveness that marked these campaigns to uncover timely lessons for future elections.


Restoring a Community
As an intern with the Knox County Land Bank, Lucas Kreuzer '20 worked to revitalize troubled properties in the neighborhoods surrounding Kenyon. His efforts will have lasting effects, increasing land values and attracting new investors and residents.
Engaging Opportunities
From sustainable agriculture to foreign language development, community-engaged learning (CEL) courses connect students to the people and issues affecting Knox County and beyond.