We're all on a quest to understand more about life—and so we write. We write about unrequited love, the Civil War, superorganisms, penalty kicks, global warming, bluebird feathers, Arab literature, anime, nuclear waste, neurotransmitters, game theory, Black Arts, modern democracies, LGBTQ+ cinema and more. We write not only to share our views, we write to be part of the solution.
"Beethoven's Diving Board"
The Best in Contemporary Writing
The Kenyon Review is one of America's most revered literary magazines, publishing breakthrough work by prize-winning authors and daring new voices.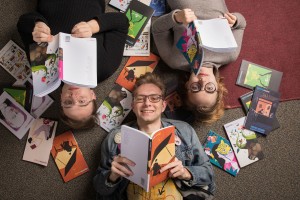 Kenyon Review associates pore over literary submissions for promising works.
Find your outlet.
Students contribute their ideas and perspectives to more than a dozen publications, from literary and political journals to blogs.
HIKA

Kenyon's oldest undergraduate literary publication HIKA allows students to share their voices while growing invaluable editing and publishing skills. 

Lyceum

Dreamed up by a group of naturally curious students, Lyceum is a creative science community that encourages us to share, explore and discuss our fascinations about the natural world.

Collegian Magazine

The award-winning Collegian Magazine publishes long-form articles about Kenyon politics, culture and history, as well as photo essays, interviews and memoir pieces.

A Medio Camino

Written and produced solely by Kenyon students, A Medio Camino empowers Spanish-speaking voices on our campus, shining a light on issues that affect the Latinx community.
In a recent survey, 100 percent of young alumni say they learned to write more effectively at Kenyon.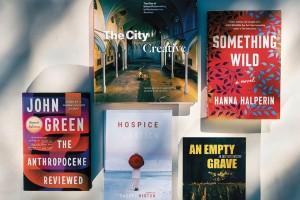 Graduates of our renowned English program go on to excel in writing careers. It's not unusual for our alums to make repeat appearances on The New York Times' bestseller lists or find success in the publishing industry. Kenyon's own E.L. Doctorow '52 once said that Kenyon does poetry like Ohio State does football. He's not wrong. Explore new releases from members of the Kenyon community.