We come to Gambier, Ohio, from every region of the country and corner of the globe to better understand our place in the world. Together, we explore questions that transcend languages, cultures and personal histories. We apply our learning to solve real-world problems, building on our insights with internships, independent research and off-campus study programs.
Go There
We offer more than 190 immersive study abroad programs across 50 countries. We also sponsor signature programs in England and Italy, and support a number of learning opportunities throughout the U.S.

Tale of Two Cities
What's better than studying abroad in one city? World traveler and economics major Bheki Mhlanga '16 shares his experience of learning in two urban centers: Granada, Spain, and Shanghai, China.
A Community of Diverse Perspectives
Students from 49 countries bring their points of view to a multicultural community where all of us—students, faculty, and staff—learn from a diversity of experiences and perspectives.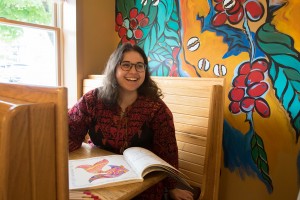 Hanaa Ibrahim '22 talks about representing her home, Palestine, and about finding her purpose at Kenyon.
Every year, nearly half of Kenyon's junior class participates in an off-campus learning opportunity.
15

Times Kenyon has been named a top producer of Fulbrights.

8

Modern languages are taught at Kenyon: Arabic, Chinese, French, German, Italian, Japanese, Russian and Spanish.

17

Countries represented in Global Crossroads, an international alliance that connects courses from two colleges.