Sean M. Decatur became the 19th president of Kenyon College on July 1, 2013. An award-winning biophysical chemist, Decatur is a lifelong champion for the liberal arts and an emerging voice in the national conversation about higher education.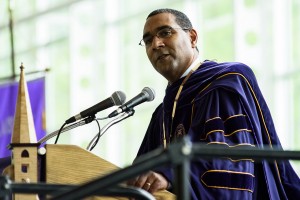 Gracious recognition of our shared vulnerability will be essential for our collective health as a community.
As we celebrate the intentional community built at Kenyon, we should not lose sight of the power of the unintentional, casual community generated here.

The best way we can honor Dr. King is to choose community over chaos — to find the courage and will to overcome procrastination and stand with those who are sacrificing for justice.

The current crisis separates us physically, but we've built relationships in and outside of the classroom that can and will withstand this.
In the News

—

The Ezra Klein Show

In a podcast interview with Ezra Klein, President Decatur advances the debate over free speech and political correctness on campuses.

In the News

—

The Hechinger Report

We must broaden our view beyond the scrutiny of admissions at wealthy, private selective colleges, President Decatur argues in an op-ed.

In the News

—

Washington Post

When people from different backgrounds collaborate on common causes, the shared work spurs personal relationships and erodes stereotypes, writes President Decatur.
Location
Office of the President
Ransom Hall
Kenyon College
Gambier, Ohio 43022